The TDs who signed the One Future pledge
The One Future Campaign asked all #GE2020 candidates to pledge to work for faster and fairer climate action if elected to the 33rd Dáil and to support the campaign's nine policy demands.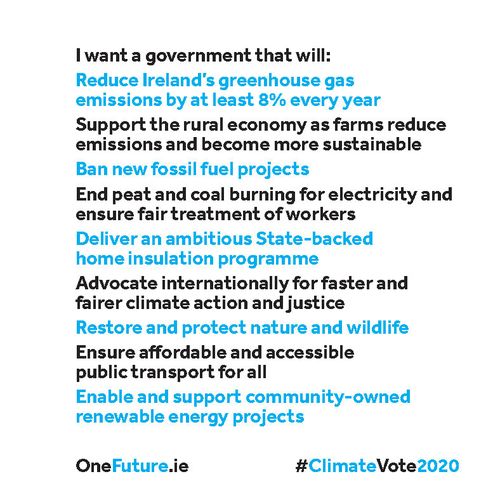 Here's the list of TDs who have signed up!
All candidates from Solidarity-People Before Profit, Social Democrats, Green Party and Labour have signed. As did Mary Lou McDonald, President of Sinn Fein.
If you don't see your candidate listed, you can email them here.
By constituency
Carlow Kilkenny - GP - Malcolm Noonan
Carlow Kilkenny - LAB - Denis Hynes
Carlow Kilkenny - PBP - Adrienne Wallace
Cavan Monaghan - GP - Tate Donnelly
Cavan Monaghan - FG - Sandra McIntyre
Cavan Monaghan - LAB - Liam van der Spek
Cavan Monaghan - PBP - Emmett Smith
Clare - GP - Roisin Garvey
Clare - IND - Trudy Leyden
Clare - PBP - Theresa Donohoe
Cork East - GP - Liam Quaide
Cork East - LAB - Seán Sherlock
Cork North Central - FG - Lorraine O'Neill
Cork North Central - GP - Oliver Moran
Cork North Central - LAB - John Maher
Cork North Central - SD - Sinead Halpin
Cork North Central - SP - Mick Barry TD
Cork North West - GP - Colette Finn
Cork North West - SD - Ciaran McCarthy
Cork South Central - GP - Lorna Bogue
Cork South Central - LAB - Ciara Kennedy
Cork South Central - PBP - Ed Fitzgerald
Cork South Central - PBP - Bobby Murray Walsh
Cork South Central - SD - Patricia O'Dwyer
Cork South West - GP - Bernadette Connolly
Cork South West - PBP - Kevin O'Connor
Cork South West - SD - Holly Cairns
Donegal - GP - Michael White
Donegal - I4C - Thomas Pringle
Donegal - IND - John O'Donnell
Donegal - SF - Pearse Doherty
Dublin Bay North - FF - Seán Haughey
Dublin Bay North - FF - Deirdre Heney
Dublin Bay North - GP - David Healy
Dublin Bay North - IND - Conor Creaven
Dublin Bay North - LAB - Aodhán Ó Ríordáin
Dublin Bay North - PBP - Michael O'Brien
Dublin Bay North - PBP - Bernard Mulvany
Dublin Bay North - SD - Cian O'Callaghan
Dublin Bay South - GP - Eamon Ryan
Dublin Bay South - LAB - Kevin Humphreys
Dublin Bay South - SD - Sarah Durcan
Dublin Bay South - SF - Chris Andrews
Dublin Bay South - PBP - Annette Mooney
Dublin Central - FF - Mary Fitzpatrick
Dublin Central - FG - Deirdre Duffy
Dublin Central - GP - Neasa Hourigan
Dublin Central - LAB - Joe Costello
Dublin Central - PBP - Gillian Brien
Dublin Central - SD - Gary Gannon
Dublin Central - SF - Mary Lou McDonald
Dublin Fingal - GP - Joe O'Brien
Dublin Fingal - LAB - Duncan Smith
Dublin Fingal - PBP - John Uwhumiakpor
Dublin Fingal - SD - Paul Mulville
Dublin Fingal - SF - Louise O'Reilly
Dublin Mid West - GP - Peter Kavanagh
Dublin Mid West - IND - Paul Gogarty
Dublin Mid West - LAB - Joanna Tuffy
Dublin Mid West - PBP - Gino Kenny
Dublin North West - GP - Caroline Conroy
Dublin North West - IND - Ian Croft
Dublin North West - LAB - Andrew Montague
Dublin North West - PBP - Conor Reddy
Dublin North West - SD - Róisín Shortall
Dublin Rathdown - FF - Shay Brennan
Dublin Rathdown - FF - Deirdre Conroy
Dublin Rathdown - GP - Catherine Martin
Dublin Rathdown - IND - Mary Connolly
Dublin Rathdown - LAB - Lettie McCarthy
Dublin Rathdown - PBP - Eoghan Ó Ceannabháin
Dublin Rathdown - SF - Sorcha Nic Cormaic
Dublin South Central - GP - Patrick Costello
Dublin South Central - I4C - Joan Collins
Dublin South Central - IND - Alan Kerrigan
Dublin South Central - LAB - Rebecca Moynihan
Dublin South Central - PBP - Brid Smith
Dublin South Central - SD - Tara Deacy
Dublin South West - GP - Francis Duffy
Dublin South West - LAB - Ciarán Ahern
Dublin South West - SD - Carly Bailey
Dublin South West - PBP - Paul Murphy
Dublin West - GP - Roderic O'Gorman
Dublin West - LAB - Joan Burton
Dublin West - SD - Aengus Ó Maoláin
Dublin West - SP - Ruth Coppinger
Dun Laoghaire - AON - Mairéad Tóibín
Dun Laoghaire - GP - Ossian Smyth
Dun Laoghaire - LAB - Juliet O'Connell
Dun Laoghaire - PBP - Richard Boyd Barrett
Dun Laoghaire - SD - Dave Quinn
Galway East - GP - Eoin Madden
Galway East - LAB - Marian Spelman
Galway East - SD - Peter Reid
Galway East - SF - Louis O'Hara
Galway West - GP - Pauline O'Reilly
Galway West - IND - Mairéad Farrell
Galway West - IND - Catherine Connolly
Galway West - IND - Mike Cubbard
Galway West - LAB - Níall McNelis
Galway West - PBP - Joe Loughnane
Galway West - SD - Niall O'Tuathail
Galway West - SP - Conor Burke
Kerry - GP - Cleo Murphy
Kerry - PBP - Brian Finucane
Kildare North - FF - Frank O'Rourke
Kildare North - GP - Vincent Martin
Kildare North - LAB - Emmet Stagg
Kildare North - SD - Catherine Murphy
Kildare North - PBP - Paul Mahon
Kildare South - GP - Ronan Maher
Kildare South - PBP - Róisín Uí Bhróin
Kildare South - IND - Fiona McLoughlin Healy
Kildare South - LAB - Mark Wall
Kildare South - SD - Linda Hayden
Laois Offaly - GP - Pippa Hackett
Laois Offaly - LAB - Noel Tuohy
Laoise Offaly - PBP - Stephen Tynan
Limerick City - GP - Brian Leddin
Limerick City - LAB - Jan O'Sullivan
Limerick City - SD - Jenny Blake
Limerick County - GP - Claire Keating
Longford West Meath - FG - Micheal Carrigy
Longford West Meath - GP - Louise Heavin
Longford West Meath - LAB - Alan Mangan
Longford West Meath - PBP - Barbara Smyth
Louth - FF - Declan Breathnach
Louth - GP - Mark Dearey
Louth - LAB - Ged Nash
Louth - PBP - Audrey Fergus
Louth - SF - Imelda Munster
Mayo - GP - Saoirse McHugh
Mayo - LAB - Kamal Uddin
Mayo - PBP - Joe Daly
Meath East - GP - Seán McCabe
Meath East - LAB - Annie Hoey
Meath East - SF - Darren O'Rourke
Meath East - PBP - Andrew Keegan
Meath West - GP - Séamus McMenamin
Meath West - LAB - Tracy McElhinney
Meath West - SD - Ronan Moore
Roscommon Galway - GP - Julie O'Donoghue
Roscommon Galway - PBP - Kenny Tynan
Sligo Leitrim - GP - Bláithín Gallagher
Sligo Leitrim - IND - Declan Bree
Sligo Leitrim - LAB - Nessa Cosgrove
Sligo Leitrim - PBP - Gino O'Boyle
Tipperary - GP - Rob O'Donnell
Tipperary - IND - Seamus Healy
Tipperary - LAB - Alan Kelly
Waterford - GP - Marc O'Cathasaigh
Waterford - LAB - John Pratt
Waterford - PBP - Una Dunphy
Waterford - SF - David Cullinane
Wexford - GP - Paula Roseingrave
Wexford - I4C - Seánie O'Shea
Wexford - LAB - Brendan Howlin
Wexford - PBP - Susan Breen
Wexford - PBP - Deirdre Wadding
Wicklow - GP - Steven Matthews
Wicklow - LAB - Paul O'Brien
Wicklow - PBP - Sharon Briggs
Wicklow - SD - Jennifer Whitmore
Wicklow - SF - John Brady