Party Manifesto Scores
Fast enough and fair enough climate action?
The verdict: Not good enough!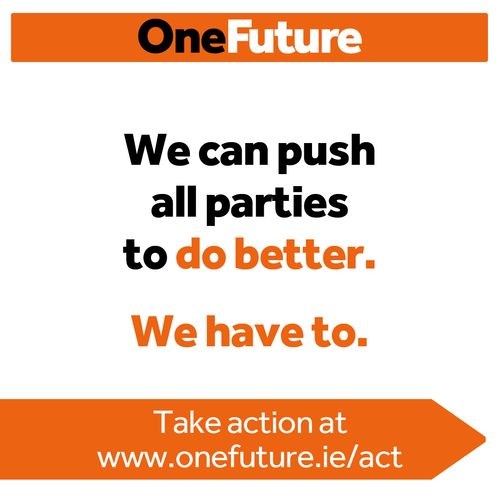 Click the image above to take action by asking your candidates to sign the One Future pledge
The Results
Grades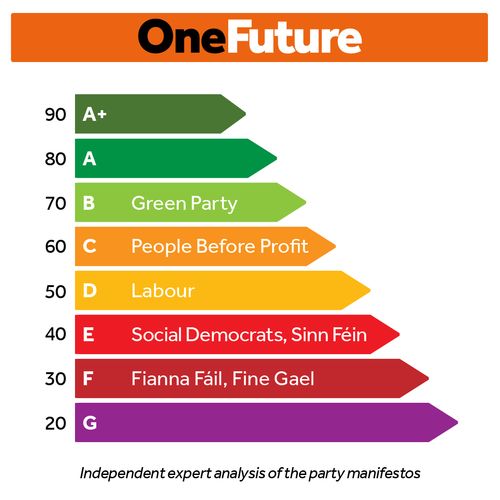 Scores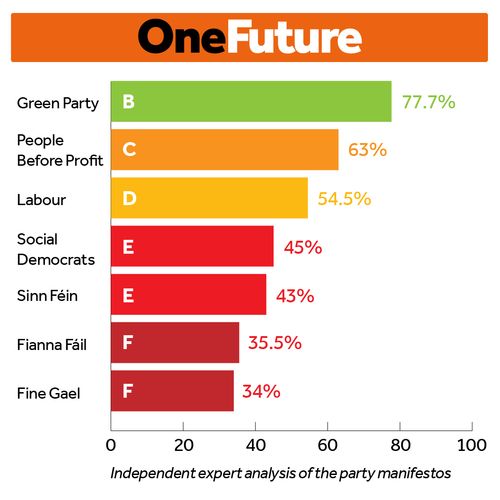 How did we get these results?
Using the 9 One Future asks,
3 independent experts* scored the manifestos.
The scores were combined to give marks out of 100.
The overall scores:
One Future Policy Categories
FG
FF
SF
GP
Labour
SD
PBP
Score
Score
Score
Score
Score
Score
Score
1. Targets and Climate Law (x/20)
7.3
6.0
5.0
17.7
13.7
8.3
15.3
2. Transport (x/10)
4.5
3.8
5.7
8.0
5.3
5.7
6.5
3. Warmer Homes (x/10)
5.8
6.7
2.7
7.7
5.3
4.3
6.8
4. Community Energy (x/10)
4.3
4.2
4.0
8.0
2.5
1.7
6.0
5. Peat, Coal & Just Transition (x/10)
4.0
2.0
4.3
6.0
5.3
3.2
7.0
6. Drilling and LNG (x/10)
0.7
2.3
9.0
8.3
9.0
5.7
8.3
7. Climate Finance (x/10)
3.3
3.3
5.0
5.3
3.3
3.0
3.3
8 Agri emissions
& rural livelihoods (x/10)
2.0
3.2
5.0
8.0
5.7
5.8
6.3
9. Restore and protect
nature (x/10)
2.0
4.0
2.3
8.7
4.3
7.3
3.0
Total (out of 100 marks)
34.0
35.5
43
77.7
54.5
45
63
Want to know more? Read the blog post here.
What do we say?
"We need whoever is elected on Saturday 8th Feb to know that we the people want them to be braver in their climate commitments. They must commit to act faster and fairer."
We need to give every person we meet the tools to challenge every candidate.

What do the experts say?

Dr Cara Augustenborg, who previously scored the manifestos at the 2016 General Election:
"While all the parties have improved their policies on climate and biodiversity since the last general election, it's disappointing the larger parties still don't seem to connect the dots. They are promising more climate action on the one hand, while at the same time promising more regional airports, for example, and not committing to the level of emissions reductions we need to help solve the problem. In an effort to promise something for everyone in the audience, they seem to have lost sight that the climate crisis is the biggest challenge humanity faces."

Professor John Sweeney of Maynooth University:
"The various manifestos indicate an encouraging awareness of the seriousness and scope of the climate change challenge facing Ireland. The political parties recognise the concerns of the electorate and their responsibilities as legislators to a degree not apparent in previous elections, and this is to be welcomed. Several progressive policies are described, and commitments to achieve agreed targets are liberally scattered throughout the manifestos.

However, the hard choices necessary to implement the aspirations are less in evidence. Ultimately, radical emission cuts by all sectors of society and of businesses will be necessary in the short and medium terms to tackle effectively the climate and biodiversity emergency. No muddying of the water or excuses for any sector will gain currency with what is an increasingly informed electorate concerned for their future well being and that of their children."
Read a description of each party's plans and related costsings in the areas of transport, retrofitting of homes and buildings, energy, agriculture and climate governance.

*The seven party manifestos were assessed by Professor John Sweeney, Dr Cara Augustenbog, and Sadhbh O'Neill who was one of the policy advisers to the members of the special all-party Oireachtas Committee on climate action last year.